Why You Should Pressure Wash Your Home Before You Sell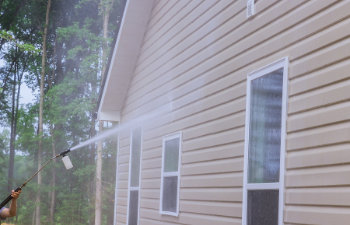 Are you planning to sell your home in the near future? First impressions are crucial to make the most money from your home. Pressure washing can make your home look its best to be more attractive to potential buyers. Here are three reasons why you should pressure wash your home before you put it up for sale.
Boost Your Home's Value
Before you sell your home, you may need an appraisal to determine the price of your home on the real estate market. If the exterior of your home is dirty, it could drive down the overall value. A professional pressure wash makes your home more inviting to increase the value. You could see an increase of up to 10% on your selling price if you keep your home in pristine condition.
Smoother Inspection Process
Accumulated dirt and grime can cause significant damage to the exterior of your home. When you put your home up for sale, it will need to undergo an inspection process to determine if there are any needed repairs. If your house has damage or looks dirty, you may need to take care of these issues before you close and it can affect your return on investment. With a regular pressure wash, you can reduce your risk of damage and speed up the closing and inspection process.
Prevent Injuries When Selling Your Home
You will have many visitors coming to your home to check out your property when you list your home on the real estate market. Accumulated grime can make driveways and sidewalks slippery, increasing your liability risk for slip and fall accidents. You should pressure wash these areas along with your home's exterior to protect potential buyers.
Pressure Wash Your Home Today
Moving to a new home gives you the opportunity for a fresh start, and your old home deserves one as well. With a professional pressure wash, your home will be given a chance for a new life and help you make the most from your investment. JB Power Clean specializes in residential pressure washing services to help make your next move easier. Call today to request a free quote.
Posted on behalf of JB Power Clean
Sherrills Ford, NC
Phone: (704) 658-5896