Driveway Washing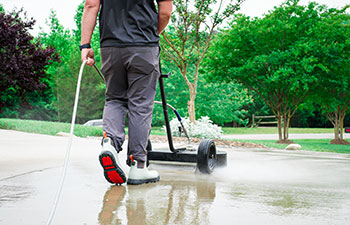 Driveway Pressure Washing
One of the first things that guests notice when they visit a home is the driveway. Yet, because driveways are a catchall for oil, antifreeze, car fluids, tire marks and a host of other substances and debris (if you have children), they are easily stained and discolored. Changing seasons, weather and environmental factors also play a role in degrading the surface of driveways. Thus, homeowners find great value in pressure washing their driveway to loosen and remove dirt, grease and grime from their concrete or asphalt surfaces.
JB Power Clean proudly serves Sherrills Ford, Mooresville and surrounding areas with expert driveway pressure washing. Along with specialized surface-cleaning equipment, our technicians incorporate the use of hot water, cold water and/or steam to remove the toughest stains from residential driveways and walkways.
You want your home to look its best. At JB Power Clean, this begins with a clean, well-maintained driveway. To obtain a free estimate for your driveway pressure washing today, call the team at JB Power Clean.
Driveway Power Washing & Cleaning
Did you know? UV rays, wind, rain, dirt and pollen work together to degrade and discolor concrete surfaces of driveways. Depending on where you live, mold, mildew, bird droppings and tree sap may also build up, resulting in thick, sticky debris. Because concrete surfaces are porous, many contaminants are absorbed, resulting in long-term wear and staining.
Fortunately, there is a quick and convenient solution to restoring the look of your driveway—power washing and cleaning by the technicians at JB Power Clean. Combining the power of hot water, cold water or high-pressure steam, our specialists are able to tackle the most challenging driveway conditions to renew and restore their appearance. Without a doubt, a fresh and clean driveway has the ability to brighten up an entire property.
For a free estimate on driveway power washing and cleaning in Sherrills Ford, Mooresville and nearby communities, contact our experts at JB Power Clean today!