Patio Area Washing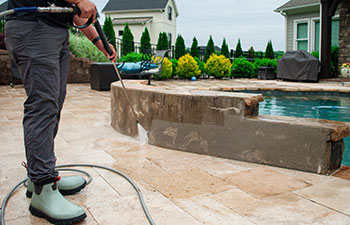 Patio Area Pressure Washing
Patio areas are a place to gather, mingle, and are often the center of back yard pool parties and barbeques. Yet, these areas are exposed to the same elements as home exteriors, putting them at risk for mold, mildew, staining, damage from pollution, oil stains, weeds, moss and slippery algae. Thus, to ensure that your patio is healthy, clean and welcoming, patio area pressure washing is a quick, effective solution.
The experts at JB Power Clean combine experience, knowledge and expertise in pressure washing to bring out the best in your patio, concrete and brick surfaces. Using hot water, cold water or high-pressure steam, our professionals are equipped to take on the challenges of the heavily soiled areas of your patio safely and efficiently.
Patio Pressure Cleaning
Perhaps your outdoor patio appears dull and tired. A closer look reveals staining and discoloration. Did you know? Constant exposure to changes in temperature, UV rays, rain, wind, snow and ice take a toll on the surface of your patio, causing it to look less than new.
While traditional methods for cleaning patios rely on pressure washing alone, the experts at JB Power Clean utilize one of three methods, depending on the extent of staining and discoloration. High-pressure steam incorporates the use of surface-safe cleaning products to dissolve grease and grime, while a vacuum extraction simultaneously removes particles and left over dirt. On the other hand, cold water, when used with professional-grade equipment, proves effective in removing dirt and superficial stains. For challenging stains and conditions, such as heavy grease and oil, power washing with hot water breaks up difficult substances and removes them.
At JB Power Clean, we are happy to provide a comprehensive menu of pressure washing services, designed to clean your space safely and effectively. If you reside in Sherrills Ford or Mooresville and would like a free estimate for patio pressure cleaning, contact the team at JB Power Clean today.