Erasing Outdoor Summer Mildew with Pressure Washing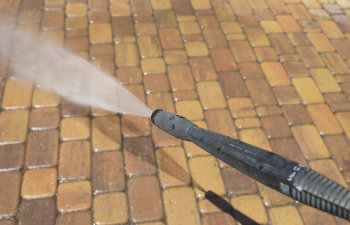 Summer is a time for enjoying the great outdoors surrounding Charlotte, but unfortunately, it's also a time when mildew can become a problem on outdoor surfaces. Mildew is a type of fungus that thrives in warm and humid conditions, making it a common problem during the summer months. Not only does mildew look unsightly, but it can also pose health risks for you and your family. Fortunately, pressure washing is an effective way to remove mildew and keep your outdoor surfaces looking clean and fresh.
JB Power Clean offers safe, effective and professional pressure washing for homes and businesses that erases ugly mold and mildew. Fall is the perfect time to get rid of this buildup before the cold and freezing temperatures of winter.
What is Mildew?
Mildew is a type of fungus that grows on damp surfaces. It can appear as black or white spots on outdoor surfaces such as decks, siding, pool decks and concrete. Mildew can also cause a musty odor and can be harmful to your health, particularly if you have allergies or asthma.
Why Pressure Washing is Effective
Pressure washing is an effective way to remove mildew because it uses high-pressure water to blast away dirt, grime, mold and mildew. Pressure washing is a more efficient method than scrubbing with a brush or using a chemical cleaner. It can also help to prevent mildew from returning, as it removes the spores that can cause mildew growth.
JB Power Clean's professional pressure washing teams use safe cleaning solutions that penetrate mildew and low- to medium-pressure spray techniques to remove pesky mold and mildew stains from pool decks, patios, siding, concrete, brick and other hard outdoor surfaces. Our teams are trained and experienced so you can be confident your property is in good hands and will not be damaged.
Boat docks and piers
Decks
Gutters
Driveways
Siding
Concrete
Patios
Sidewalks
Buildings
Parking lots
Dumpster pads
Garages
Equipment
Windows
Sidewalks
Roofs
Fences
Graffiti removal
Preventing Mildew Growth
To prevent mildew growth, it's important to keep your outdoor surfaces clean and dry. Regularly sweep or blow away leaves, dirt and debris that can trap moisture and encourage mildew growth. Also, make sure that gutters and downspouts are clear to prevent water from pooling on your outdoor surfaces. JB Power Clean can also provide routine pressure washing year-round to keep your residential or commercial property clean, safe and free from unsightly buildup.
Mildew can be a frustrating problem during the summer months, but pressure washing is an effective way to remove it and keep your outdoor surfaces looking clean and fresh. Our professional pressure washing company near Charlotte, NC, can help you enjoy your outdoor spaces without the unsightly and potentially harmful effects of mildew. Contact us today by phone or online to request a free quote.
Posted on behalf of JB Power Clean
Sherrills Ford, NC
Phone: (704) 658-5896