Wanna Makeover Your House?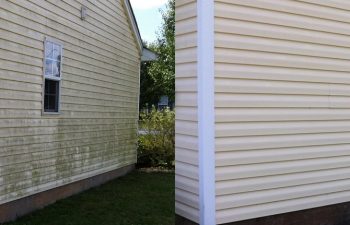 When it comes time to restoring the look of your home, most people start to reach for the latest ad from the local home improvement store. Many reason the best way to restore that new home look is with a fresh coat of paint and hours of elbow grease. Most folks don't realize that it is entirely possible to restore a brilliantly clean look to one's home by having a professional pressure washing company clean their home!
Cleans All the Toughest Stains
The driveway and sidewalk / walkway are typically the most heavily trafficked areas outside of the home. Driveways can become stained by rust and leaking fluids from parked automobiles. After several months of being baked in by the sun, these stains become resistant to even the most powerful cleaning products you can buy. Similarly, as rainfall rolls off of your roof it deposits minerals onto your driveway, sidewalk or walkway. All of these stains can detract from, and even negate, the appearance of a freshly painted home. Pressure washing is a cost effective way to remove these stains from all the concreteLike New Home For Less Than A Remodel around your home, restoring your driveway and walkways to a brilliant color that enhances the home it surrounds.
Before You Remodel, Pressure Clean It
Homeowners are often stunned by the dramatic improvement in their homes appearance after just one pressure washing service. Molds, fungus, dirt and grime can all dull the appearance of your homes paint and siding. When these are professionally removed by a skilled pressure washer the paint on your home can properly reflect light as it was intended to. This means that not only is your home clean but it shines!
Fraction of the Cost of that Makeover
JB Power Clean has been restoring the 'curb appeal' to homes in the Charlotte area for years. At only a fraction of the cost of remodeling or making over your home, JB Pressure Clean can perform a full, professional home cleaning that will leave your home sparkling. Don't hesitate, contact JB Power Clean today! (704) 658-5896.
JB Power Clean also provides the following services in the Charlotte area:
Low Pressure House Washing
Gutter Cleaning
Deck Cleaning
Roof Cleaning & Black Spot Removal
Driveway & Concrete Cleaning
Posted on behalf of JB Power Clean
Sherrills Ford, NC
Phone: (704) 658-5896