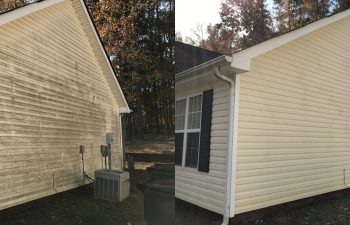 The exterior appearance of your home says a lot of things. To passersby it is an indicator of what the interior of your home looks like. People make snap judgments about you based on the exterior appearance of your home so in a very real sense your home is a reflection of you. Any Real Estate agent will tell you that a poor looking exterior will decrease the resale value of a home regardless of how great the interior is. This means that a cleaner home not only reflects well on you but it is also worth more! So what is the best way to care for the exterior appearance of your home itself? Without a doubt it is pressure cleaning.
Should You Pressure Wash It Yourself?
Many homeowners are tempted to buy or rent pressure washing equipment and clean their own home. There are many reasons why this is not a good idea. Doing the job yourself will likely require more than one washing to achieve the same effect as a professional power washer. This is primarily because the consumer grade pressure washing machines for sale at the store simply do not output the same amount of pressure as a commercial grade pressure washing machine. By washing and rewashing your home you expend a lot of time and energy. You also end up paying more as multiple cleanings mean using much more water and cleaners
Save Time, Save Money, Save A Headache
A professional pressure washing company such as JB Power Clean can make cleaning the exterior of your home a pleasant experience. At JB Power Clean we use state-of-the-art equipment to ensure that no matter what surface we are faced with we have the right tool for the job. Our years of experience also mean that we know how to clean properly. Not every surface gets the "full blast" treatment. Many modern surfaces are sensitive to very high pressure so we have special techniques that allow us to deep clean without the high pressure!
Keep It Clean
When your home is professionally power washed by JB Power Clean you will be assured that your home will have a brilliant exterior appearance that you can be proud of! When you are ready to put the shine back on your home call or contact JB Power Clean! (704) 658-5896!
JB Power Clean also provides the following services in the Charlotte area:
Low Pressure House Washing
Gutter Cleaning
Deck Cleaning
Roof Cleaning & Black Spot Removal
Driveway & Concrete Cleaning
Posted on behalf of JB Power Clean
Sherrills Ford, NC
Phone: (704) 658-5896