Give Your Home a Low-Pressure Makeover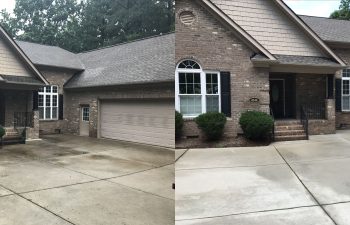 Wash Away Winter
It might be a few weeks until winter is officially over, but I think we can safely say that it's time to start gearing up for spring. And if snowstorms and slush have done a number on your property, then you might want to start the season with a little home makeover that will add curb appeal without breaking the bank!
If you're in need of house washing, Lake Norman NC-based JB Power Clean is proud to offer an effective solution. Pressure washing presents an efficient and affordable way to transform your home from "blah" to beautiful. The technique gently removes mold, mildew, dirt and other residue, restoring any surface – back to its original luster in no time.
Low Pressure Technique
We only use to a low pressure method, as this maximizes efficiency without ever putting the quality of your home siding and landscaping in jeopardy. With traditional pressure washing techniques, the sheer force of the flow can do more damage than it does good.
This is why we urge Lake Norman NC homeowners to stick with gentle pressure washing. JB Power Clean utilizes special cleaning detergent with a gentle touch, ensuring that your home will look better than new… With zero risk of any surprise damage!
Posted on behalf of JB Power Clean
Sherrills Ford, NC
Phone: (704) 658-5896