Will Pressure Washing Devalue My Property?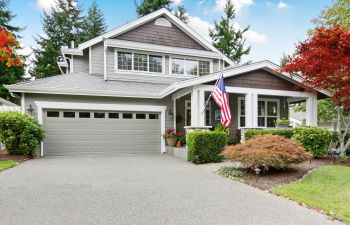 Every building material is designed to suffer a certain level of abuse before significant deterioration occurs. It is possible to accelerate this process through lack of maintenance or inappropriate care. Many home and business owners are concerned that pressure washing falls within the latter category.
While it is true that using harsh cleaning products and methods can damage surfaces, pressure washing is not the problem. You are more likely to destroy pathways, sidings or the roof by using DIY methods that lack consideration for the materials being cleaned.
Professional Pressure Washing Products
Before equipment even comes into the equation, it is important to choose the right cleaning products. Chemical cleaners can leave a residue that will eat away at certain materials long after pressure washing is complete. By using products that are designed for the treatment of each surface, this issue is completely avoidable.
It is also important to consider the environments that surround treated surfaces. For instance, harsh chemicals can kill plants and pollute soil. At JB Power Clean, we ensure that our products are always suited to the job and landscape.
Configured Power Washing Equipment
Configuring power washing equipment is important when treating different materials. Too much pressure can peel off paint, crack siding or cause tiles to dislodge. This is far from an ideal scenario when you are dealing with a major investment.
Properly calibrated pressure will ensure that each surface is treated appropriately. There is no risk of causing damage, as only dirt and corrosive materials are removed. You can treat the same surface repeatedly and the payoff is always better than allowing the material to rot.
Trained Professionals
None of these factors matter if the project is not completed by a professional. Specialists who are trained in the use of power washing products and equipment will deliver better results. An understanding of different building materials is crucial in delivering expected results without damaging property.
If you need power washing services that are reliable and effective, JB Power Clean can deliver in North Carolina. Call today to learn more about how hard we work to preserve the integrity of surfaces on your property.
Posted on behalf of JB Power Clean
Sherrills Ford, NC
Phone: (704) 658-5896