Top Five Reasons To Schedule A Deck Pressure Washing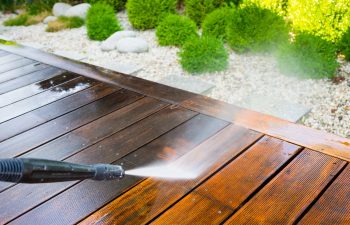 JB Power Clean specializes in safe and effective deck power cleaning for residents in Sherrills Ford, Mooresville, and surrounding areas. Call us this spring for your deck power cleaning, and here are the top five reasons why!
Reason #1 – Power cleaning your deck can be a great way to get it ready for painting or staining.  Before you put any finish on your deck, it must have all existing finishes removed, or it will not work. The new finish will sit on top of the original finish and will not penetrate into the wood. You also need to remove the gray surface layer (oxidation) before painting or staining.
Reason #2 – Spring is an optimal time to have your deck power cleaned. The warmer temperatures are approaching, and you'll want your deck in optimal condition for all your outdoor activities.
Reason # 3 – Wintertime can damage your deck and provide you with an unwanted buildup of dirt and mildew. Over the past year, your deck has been exposed to a variety of weather conditions that can harm and even stain your deck.
Reason #4 – Maintain the integrity of your deck. By power washing your deck and removing dirt and debris it can provide security and longevity to your deck for years to come.
Reason #5 – Your deck will look beautiful and like new after our professionals at JB Power Clean come to your home. We will safely and effectively power clean your deck, so it remains a beautiful and safe place to enjoy your spring and summer activities.
Call JB Power Clean today.
Posted on behalf of JB Power Clean
Sherrills Ford, NC
Phone: (704) 658-5896