Should You Have Your Deck Cleaned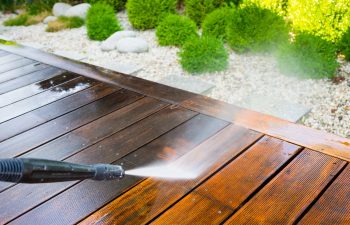 Perhaps there is nothing more picturesque than enjoying a nice summer BBQ with one's family out on the back deck everything seems just perfect. Indeed, decks add a certain charm to a home. A nice deck can transform a backyard from the ordinary to the extraordinary. Deck Cleaning, Staining & RepairBut have you ever stopped to consider what type of maintenance your deck needs? You see commercials on TV and ads in print offering deck cleaning services, but living in Charlotte NC is this something that is necessary for your deck?
Deck Maintenance IS Crucial
While your deck is made of sturdy hardwood it is still an organic substance and anything organic will decay over time. What speeds up that decay is the elements. Think about your deck for a moment, when you and your family and friends are not walking on it, it spends all of its time getting exposed to heat and then getting drenched in rain and then frozen during the winter. Even treated hardwood will start to become an eyesore unless routine maintenance is performed on your deck. Deck cleaning, if performed twice a year, can significantly slow down the decaying process of wood and keep your deck nicer for longer.
We Know Wood Like No One Else!
Outdoor wooden structures add beauty and value to any property, but if they are left untended or in disrepair they can become a real eyesore. Maintain the integrity and beauty of your property with our professional deck cleaning, restoration and repair services from JB Power Clean Pressure Washing. Let us help you keep your outdoor wooden structures looking their very best all year round. We have the proper knowledge, equipment and professional grade wood care products to restore and maintain wood's true beauty. Call or contact us for your free estimate today! (704) 658-5896
Our Professional Deck Cleaning services are ideal for:
Decks
Fences
Docks
Arbors
Gazebos & much more!
Posted on behalf of JB Power Clean
Sherrills Ford, NC
Phone: (704) 658-5896