Reasons to Spruce Up Your Home This Fall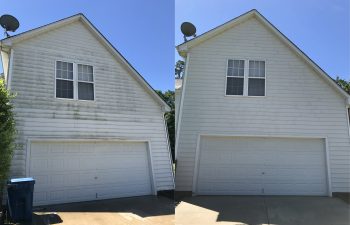 Fall is finally here, and the temperatures in North Carolina have been absolutely amazing these past few weeks. While 2020 has brought in some distressing events, there is nothing like settling into fall to bring a little sense of normalcy to life.
As seasons change, there are changes that come with the seasons. Beyond just temperature changes, the weather elements typically change, too. 2020 has seen an unusual amount of rainfall in the Southeast, and because of that, many homes have developed mold, mildew, and algae growing on their outer surfaces. Despite the mild temperatures of this past summer, the humidity was quite high for many consecutive weeks. To combat the effects of the humidity and the unwanted growth on the outside of your home, professional pressure washing is a way to protect your property and spruce up your home's appearance.
The green tint that you see on many homes this time of year may seem harmless, but it is actually unwanted due to its potential effects. All forms of mold can be dangerous to a person's health, and mold that grows on the outside of a home can transfer mold spores into outside air ducts. Mold that enters into the outside dryer vent can easily enter your home and cause serious health concerns.
Pressure washing will put a stop to mold, mildew, and algae growing and spreading. If there are any signs of growth on the outside of your home, it will only worsen as the weather gets a little cooler and wetter. By acting now, you can put a stop to these substances from ruining your house.
Pressure washing also boosts your home's curb appeal. Nothing says "neglect" like patches of green growing on the outside of your house. This is especially true if you want to put your home on the market in the near future. You don't want to lose a sale or detract from your home's property during one of the most beautiful times of the year.
Contact JB Power Clean for professional pressure washing services that are safe and effective.
Posted on behalf of JB Power Clean
Sherrills Ford, NC
Phone: (704) 658-5896