Reasons To Pressure Wash Your Walkways Before This Summer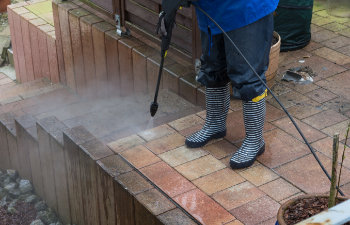 Some maintenance you do around your property because it is prudent. Other maintenance tasks you do because it is nice to have them done. It is wise to clear your gutters regularly. But, you may be surprised at some of the reasons it is prudent to pressure wash your walkways. Here are a few reasons to have your walkways pressure washed.
Prevent a Legal Liability
Slips and falls don't always happen on winter ice. Wet, overgrown walkways are another slip-and-fall hazard. The buildup of vegetation on your walkways creates a hazard. This is a risk when it is wet with dew, rain or sprinkler systems. Moss overgrowth is particularly slippery, even when it isn't soaked.
Aside from any legal liability, the last thing you or an elderly loved one needs is a broken hip from a summertime fall. This is a very real reason to have your hard surface walkways cleaned.
Prevent Costly Repairs
When plants move into the spaces caused by cracks in the concrete or between pavers, the plant's roots widen the spaces and further deteriorate your walkway. You may be able to pull large weeds and grass from the cracks but it is near impossible to pull small growth out with your fingers.
Pressure washing is able to clear this hazard from the joints and cracks easily and more effectively than what you can accomplish with a garden hose. This will save you real money for repairs or replacements down the road or in resale value dollars when you are wanting to sell.
Magnify the Results of Weekly Chores
If you aren't careful, it will have been a long time since your walkways have been cleared. By that time, it is likely some of your walkways will have either partially or completely disappeared from view, if not from memory. Some people simply mow this overgrowth along with the lawn.
If you clip your shrubs and mow your lawn regularly in the summer months, you know what effort it takes. Having your walkways cleared of this overgrowth isn't only about having your property look nice, it will magnify the results of your weekly effort to make your property look well-maintained.
Spring Cleanup
A thorough spring cleanup makes the season's chores easier to accomplish and will save you aggravation and time. Call or email JB Power Clean pressure washing to request a free estimate today.
Posted on behalf of JB Power Clean
Sherrills Ford, NC
Phone: (704) 658-5896