Reasons To Power Clean Your Wood & Fence This Spring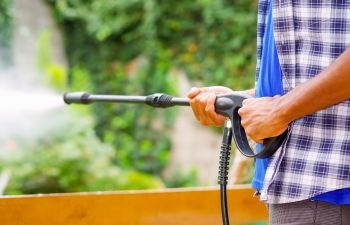 Are you considering if you should have your wood and fence power cleaned this spring? If so, JB Power Clean Pressure Washing offers safe and effective pressure washing for your wood and fences. We work throughout Sherrills Ford and the surrounding communities and are your trusted source for expert cleaning.
Here are the top reasons to make this spring the right time to have your wood and fence pressure washed by JB Power Clean.
Spring's warmer temperatures are calling you outdoors. Make your time outside more enjoyable by having a fresh clean surface of your fence. Dirt, mold and grease buildup are unsightly and can be an eyesore.
Your flowers are blossoming and blooming. Give them a beautiful backdrop with a fresh and clean fence.
Professional wood cleaning is important. JB Power Clean understands that the pressure applied and the solutions used on your wood and fencing is important to the longevity of your investment. We provide a gentle cleaning for your fence with top quality equipment and biodegradable solutions.
Your wooden fence is classic and beautiful. It adds protection, security and natural characteristics to your home. They are prone to molding though. It's important to have mold and mildew removed to increase the longevity of your investment.
The mildew on your fence will spread and grow if it's not removed properly. The first signs of it are black, brown or gray spots. Dirt feeds mildew. Removing the dirt from your wood fence will act as a deterrent to the growth and spread of mildew on your fence.
For safe and effective pressure washing for your fence, contact the experts at JB Power Clean for a free estimate today.
Posted on behalf of JB Power Clean
Sherrills Ford, NC
Phone: (704) 658-5896