Pressure Washing Outdoor Living Spaces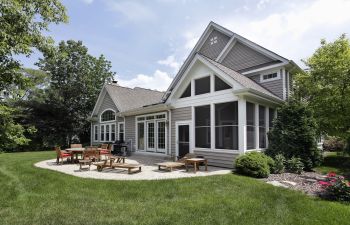 With summer in full swing, temperatures are up, and humidity is high. As you enjoy spending time outside with family and friends, it is important to remember to clean your outdoor living spaces.
If you have concrete surfaces, pavers, a pergola, trellis, or patio covers, you can get your outdoor spaces clean and fresh for use. It is helpful to think of your outdoor area as an extension of your home. When you have a cookout, family gathering, birthday party, or invite friends over to hang out, you want to provide a pleasant space for everyone to enjoy.
As relaxing as summer can be, this season can also bring a lot of work with it. You have to cut the grass once or twice a week, you have pool stuff to deal with, and you have the upkeep of maintaining outdoor spaces so they are useable. Yet, as we all know, the more you stay on top of things, the easier they are to maintain.
What to Clean
Outdoor Furniture: Plastic, wood, composite wood, and mesh patio furniture can be pressure washed. Use a 40-degree tip to clean the furniture working top to bottom. If the surfaces of your furniture are painted, start in an inconspicuous area to make sure that the amount of pressure you are using will not remove the paint.
Outdoor Cushions: Heavy-duty outdoor fabrics can be pressure washed. Place them on a stable surface and wash them side-to-side, keeping a distance of at least 16 inches. Lay them in a sunny spot to dry, rotating them as necessary.
Wood Surfaces: Fences, porches, and railings can be power washed. Start with a 15 or 20-degree tip, and move vertically, starting at the top. If your wooden surfaces are heavily soiled, use a detergent before pressure washing.
Containers: Containers such as trash cans, flower pots, and storage bins can get dirty on the outside and inside. When they are empty, you can wash them inside and out. You will typically want to start with a 40-gauge or lower nozzle to prevent gouging the surface.
Toys and Bikes: If you have children, toys get dirty. You can pressure wash them with a low-setting tip to get them clean and ready for use.
Playsets: If you have children over to play in your yard and you have a playset, you will want to keep the area clean. Start with a 40-degree nozzle and non-toxic cleaners.
Posted on behalf of JB Power Clean
Sherrills Ford, NC
Phone: (704) 658-5896