Pressure Washing Away All That Pollen To Get Ready For New Paint On The Exterior Of Your Home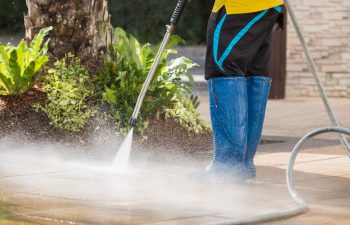 Are you ready for it? Pollen season is arriving whether you've invited it or not. It's coming and will be here for a good long while. Tree pollen season starts in March and runs through June with April being its peak pollen time. Grass pollen begins in mid-to-late spring and runs through the fall. Weather conditions during our springtime affect the amount of airborne pollen. Dry windy days will increase our pollen count, while rainy weather temporarily decreases our pollen counts.
Pollen is a tiny powdery granule given off by plants so they can carry our their reproductive process. Pollen is not harmful, but for those with allergies to pollen it can make it a miserable time of year.
Pollen cannot only affect those with allergies, but it can also affect the exterior of your home. Many of you may be considering a fresh spring painting of the exterior of your home. You may be wondering if all of this pollen will affect the painting process. Should you go ahead and have it painted now, or postpone it until pollen season ends?
The good news is that pollen has no real effect on the painting of the majority of the exterior of your house. Where pollen does play a harmful role in your painting process is in the areas of your home where there is high buildup of pollen. The high levels of pollen buildup in those areas will affect your paint adhesion.
If you're considering a fresh exterior paint job of your house, contact JB Power Clean to pressure wash away all of the pollen buildup around your home. Book your pressure washing close to the time of your house painting to not allow time for further buildup to occur.
Posted on behalf of JB Power Clean
Sherrills Ford, NC
Phone: (704) 658-5896