Pressure Wash Your House Before It Is Too Late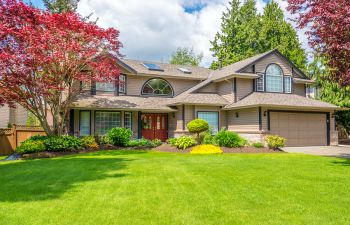 As 2020 draws to a close (thank goodness!), many people have a list of things they would like to accomplish before a new year begins. You may have goals left on your resolution list from January that you have yet to accomplish fully, and you certainly have the holidays to prepare for. However, one area that should also be included on your list of things to do in 2020 is to have your house power washed.
The perfect time to have your house power washed is any time from March through November. You want to make sure that your home is taken care of before freezing temperatures and winter weather arrive. Home power washing should be thought of as a routine maintenance task, done at least once a year. Power washing your home, driveway, and walkways will help to lengthen the lifespan of your siding, concrete, and other outdoor surfaces.
The benefits of power washing are numerous. You work hard to own your home, and letting it sit and rot without proper care is honestly just throwing your money away. Homes are meant to appreciate in value – yet homes that are neglected rarely do. To keep your house in the best shape possible, power washing the outside of your home is an ideal place to start.
Why power wash? Here's a list of reasons:
Increase the curb appeal of your home
Prepare it to sell and draw buyers
Remove insects near the soffits
Remove algae on siding
Clean black streaking left from gutters
Clean dirt and grime buildup on all areas of the home
Create an inviting entry to your home
Clean stains off your driveway and walkways
Set off landscape design
Protect your home from mold and mildew entering inside the house
Add up to $15,000 to the sale price
As you can see, the list of reasons to power wash your home is long. Now is the perfect time to check that item off your 2020 To-Do List. Contact JB Power Clean today. Let us provide an efficient clean to your exterior surfaces to restore the beauty and value of your home.
Posted on behalf of JB Power Clean
Sherrills Ford, NC
Phone: (704) 658-5896