Pressure Wash The Moss From Your Driveway Before It Becomes A Slippery Hazard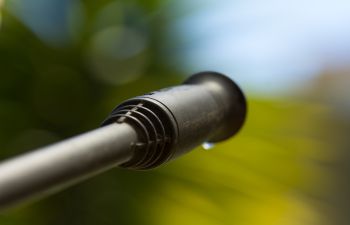 Do you have moss growing on your driveway? In the spring, growth of any kind of vegetation speeds up, and moss may be doing the same. If you have moss growing on your driveway you'll know it because it has some distinct characteristics. It almost appears to be a green carpet that grows across the surface of your driveway.
While moss can provide a beautiful look to many surfaces and areas around your home and garden, it is a dangerous hazard for your driveway. When the moss is wet or damp (which will be often during a rainy spring) it can become very slippery and a hazard for this high traffic area of your home.
If you need to get rid of the moss on your driveway here are some simple steps you can take to help prevent its growth.
Moss loves damp and dark environments. Allow as much sunlight to hit your driveway as possible. This may require you to cut back branches that are hanging over your driveway to provide shade.
Keep your driveway clear of any leaves that may have fallen. These leaves will provide a wet blanket on your driveway that will act as an accelerator for moss growth.
Ensure that your sprinkler system is not spraying its daily water onto your driveway.
Brush away new moss before it moves in and makes itself comfortable. Brush it away as soon as possible. Moss that has time to put its roots down will be anchored in and more difficult to remove the longer it's there.
Contact JB Power Clean to pressure wash your driveway today. We specialize in helping you keep a clean, well-maintained driveway. Call for a free estimate for your driveway pressure washing today.
Posted on behalf of JB Power Clean
Sherrills Ford, NC
Phone: (704) 658-5896