Power Washing Safety Regarding DIY Projects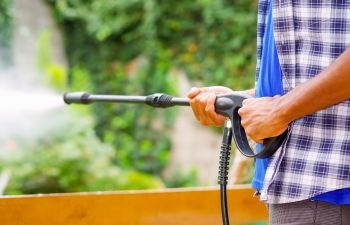 Power washing is the most efficient way to clean the exterior of your home or office to maintain its curb appeal and the longevity of the materials that create it. Power washing is also helpful to clean up after a natural disaster. It seems like the perfect DIY project: purchase or rent a machine, a little water and you are off to the races. However, do not be deceived; there is a high risk of danger in DIY hands. Power washers are not as safe as they may appear.
What Is a Power Washer?
A power washer is a high-powered sprayer used to clean large, sturdy surfaces. Like all power tools, there is a high risk of injury, especially if you are not trained properly in its use. Those who like to DIY are at a disadvantage due to the lack of safety training.
What Are the Safety Concerns?
Any device that produces greater than 100 PSI can break the skin. DIY power washers use forces greater than 1,500 PSI, some as high as 4,000 PSI. Although injuries may show only small superficial wounds, the underlying damage that is unseen is the danger.
Risks Can Include But Are Not Limited to:
Wounds that appear minor from the strong spray can induce a person to delay proper treatment. This only increases the risk of infection leading to disability or even amputation from an injury called compartment syndrome.
The strength of the spray will throw any unsecured or weakened objects around that may strike and injure anyone nearby.
A power washer is a power tool and with all power tools, there is the danger of electric shock if not used properly. Power washers are so powerful they may even damage electrical cords.
The use of gasoline-powered engines can lead to carbon monoxide poisoning if not ventilated properly, regardless of the size of the engine.
The Safest Way to Get the Job Done
While pressure washers may be the best way to clean large areas, they are not always the safest DIY tool. It is best to give the job to those well-trained in power washing safety. The professionals at JB Power Clean are available for all of your power washing needs. Call now to schedule your power washing specialist.
Posted on behalf of JB Power Clean
Sherrills Ford, NC
Phone: (704) 658-5896