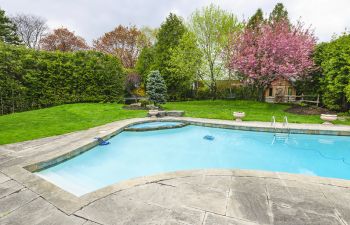 Having a pool in your backyard is something to be grateful for during summers in North Carolina. The heat and humidity can be intense from June to September, and it is nice to have a convenient way to cool down. However, there is a lot of responsibility when it comes to pool ownership. While maintaining certain chemical levels in the pool water and keeping the pool clean from debris are essential, it is also important that you take care of the area around your pool for maximum enjoyment.
Cleaning the pool deck area around your pool can not only make the area more aesthetically pleasing, but it also provides a safe environment for your family, friends, and neighbors who visit. Whether your pool deck is concrete, tile, or wood, you will need to make this area a priority in your maintenance routine. All outdoor surface areas are susceptible to mold, algae, and moss development. When unsightly and slippery growths accumulate on your pool deck, you can have an unpleasant and dangerous environment.
One of the best things you can do for your pool deck each summer is to have it professionally power washed. Power washing is more complicated than most people realize, especially around surfaces that you do not want to damage. Using the incorrect amount of pressure or wrong cleaning solutions can cause expensive damage to your property. When it is time to thoroughly clean your pool deck area, you can trust the experts at JB Power Clean.
One aspect of our job is to inspect the integrity of your pool deck carefully. We know what to look for in terms of cracking, chipping, and suspicious staining. If we notice any damage in your pool deck area, we will make you aware of the situation so that you can get those issues repaired quickly.
Hiring a professional for power washing services will not only result in a beautifully clean pool deck, but it will also give you peace of mind that the job was done correctly. You put a lot of money into your pool, let JB Power Clean help you maintain it.
Posted on behalf of JB Power Clean
Sherrills Ford, NC
Phone: (704) 658-5896