No Pressure Roofing Cleaning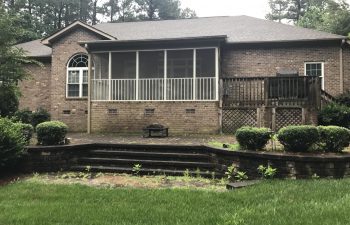 The need for an effective way to wash the roof of a home is very real. The black streaks that develop on roof shingles is not dirt, it is actually an aggressive algae called Gloeocapsa Magma. This type of algae is spread through the air from roof to roof. The algae feed off of limestone. Guess what your shingles have in them. If left unchecked this algae will spread all over your roof and eat away at your shingles, leaving small gaps where water can infiltrate your roof which can cause thousands in damages and lead too much higher energy costs as your shingles deteriorate and no longer reflect the sun's rays effectively. You Don't Need High Pressure To Clean This RoofHowever when it comes to cleaning their roof, some people hesitate to use a pressure washer for fear that the pressure of the water may damage their roof tiles.
No Pressure Roof Cleaning
The good news is that now you can safely and effectively remove these algae without causing any harm to your roof shingles. Utilizing our safe, no pressure roof cleaning method we can safely remove those dark stains without using the potentially damaging force of a pressure washer. Our no pressure roof cleaning method not only poses no risk to your roof but it will not void your roof's warranty as well. Never let anyone on your roof that plans to use a pressure washing machine as this could severely damage your roof, more so than the algae itself!
Make Your Roof Look New Again
Most residents in the Charlotte NC area know that pressure washing can be good for the many different surfaces around their home such as the driveway, sidewalks and even the home itself (vinyl siding, brick, etc.). JB Power Clean Pressure Washing is proud to offer no pressure roof cleaning to the residents of the Charlotte NC area. The algae that is attacking roofs is spreading at a much faster rate than ever before. By having your roof cleaned periodically by JB Power Clean Pressure Washing you can avoid having to deal with the unsightly black streaks and enjoy tremendous curb appeal from a roof that gleams as if it were brand new! Call or contact us for your free estimate today! (704) 658-5896
JB Power Clean also provides the following services in the Charlotte area:
Low Pressure House Washing
Gutter Cleaning
Deck Cleaning & Restoration
Roof Cleaning & Black Spot Removal
Driveway & Concrete Cleaning
Posted on behalf of JB Power Clean
Sherrills Ford, NC
Phone: (704) 658-5896