What Makes Leaves Stain Your Property?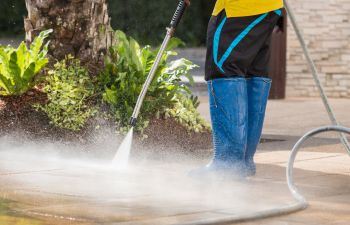 The Autumn Equinox will be at 8:54 p.m. on Saturday, September 22nd this year. This equinox occurs the moment our Sun crosses the celestial equator. We can thank this equinox for the shift from August's summer heat to autumn's crisp coolness present in the air. And suddenly our landscape will be 'painted' with all the colors of fall. Rich orange, red, browns, yellows, deep greens and all the colors that make our great state of North Carolina so beautiful during this time of the year.
With the change in length of day and temperatures, it triggers a chemical change in leaves through the development of red anthocyanin pigments.  The colors are a result of the mixing of various amounts of chlorophyll residue and other pigments in the leaf. Enjoy the trees when they display the colorful bounty, but beware that those deep, rich colors will stain your concrete as well.
The organic substances produced by the changed leaves have the ability to stain your concrete after they fall on your concrete surface at your home or commercial property. The colors can get embedded in the micro-pores of your concrete and create a very hard to remove stain.
Leaves falling are inevitable in the fall, but staining of your concrete does not need to be your new reality. JB Power Clean offers professional, quick and convenient solutions for restoring the clean look of your driveway or concrete surface at your home or commercial property.
For a free estimate on driveway power washing and cleaning in Sherrills Ford, Mooresville and nearby communities, contact our experts at JB Power Clean today!
Posted on behalf of JB Power Clean
Sherrills Ford, NC
Phone: (704) 658-5896