What To Look For When Hiring A Pressure Washer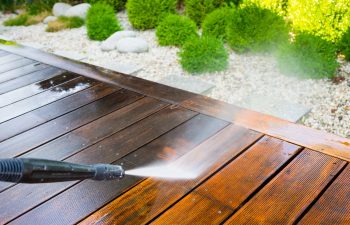 There is no denying the results that one can achieve with pressure washing. Whether it is Pressure Washed Homeremoving graffiti from a commercial building or simply cleaning a storefront or your home, everyone can benefit from a quality pressure washer. The question that often arises is how does one know who to choose? If you open the phonebook there are page after page of pressure washers. So what are some qualities to look for when you select a pressure washer for your home or business? Here are a few tips.
Look For Testimonials
As with any contractor, when shopping for a pressure washer, the first thing to look for is testimonials. Any reputable pressure washing company will have previous clients and thus should have testimonials. See what others are saying about the company. If it is not good, can you rightly expect good results? Keep in mind testimonials can be on social media pages (such as Facebook) as well as the company's website.
Beware "Discount" Services
In this economy money is more precious than ever. However, resist the urge to base your decision solely on the absolute lowest price. Pressure washing involves shooting water, sometimes high pressures, directly at your most valuable possession. Do you really want to entrust your home to the lowest bidder? In the hands of an inexperienced person, this can cause severe damage to your home or even injury. Rather, look for professionalism, quality, knowledge and experience.
Right Tools For The Job?
Lastly, while not every job requires a big, expensive, skid-mounted pressure washer. You should be concerned if a pressure washing contractor arrives at your home with the same 2 gallon per minute pressure washer that you almost bought yourself at the home improvement store! Consumer grade equipment might indicate the use of consumer grade cleaners which are not as effective at lower pressures as commercial grade cleaners. Besides, why pay someone to do the exact same thing you could?
JB Power Clean – Experience You Can Trust
JB Power Clean has been serving the Charlotte NC area for years! Our client testimonials speak for themselves. Contact us today (704) 658-5896!
JB Power Clean also provides the following services in the Charlotte area:
Low Pressure House Washing
Gutter Cleaning
Deck Cleaning
Roof Cleaning & Black Spot Removal
Driveway & Concrete Cleaning
Posted on behalf of JB Power Clean
Sherrills Ford, NC
Phone: (704) 658-5896