Leaves in Gutters Cause Exterior Staining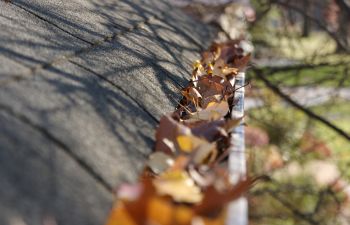 So far in 2020, we have seen a lot of rain in the forecast. While rain is necessary for plants and trees to survive, any remaining leaves that were on the trees have now fallen. And any leaves that were in your gutters prior to the rainfall are now sitting there, soaking in all the water from the excess rainfall. It is easy to categorize gutter-filled leaves as a nuisance that you want to ignore. However, leaf-clogged gutters can actually cause damage to the exterior of your home.
Any leaves that sit in the gutters not only clog any open gutters, but they essentially brew, like tea, in the standing water. As the leaves "brew," the stagnant water becomes dark and tinted. When the water runs down the gutters and onto the home's exterior, ugly, blotchy stains can occur. These stains are challenging to remove from siding, but if they are not removed they can permanently damage your paint. Your gutters can also become stained on the inside and outside, causing your gutters to look drab and create an unappealing appearance to your home's façade.
It is important to remember that your gutters need attention throughout the year. Start the New Year off right by getting ahead of the staining – and ahead of your neighbors who most likely also have staining. Your home can look its best with just a little bit of effort. By remembering that your home is a huge investment, you will take the necessary steps to protect its value. For your expert gutter cleaning and pressure washing, contact our skilled technicians at JB Power Clean today for a free estimate.
Posted on behalf of JB Power Clean
Sherrills Ford, NC
Phone: (704) 658-5896