Is It Too Late to Pressure Wash My Home?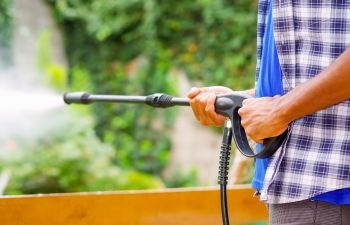 It can be a breathtaking sight to watch the fall colors decorate the landscape in North Carolina. It's nature's reminder it is time to put away the summer decorations, get out the rakes and prepare the indoors for a cozy retreat from dropping temperatures. As you clean up, you may notice the siding, concrete or decks are showing signs of summer and fall's accumulated dirt. Pollen, algae, moss and garden dirt can cling to decks, siding and roofs. And despite their beauty, leaves can stain concrete and decking. Thankfully, it is not too late to pressure wash your home.
Autumn Is a Perfect Time to Pressure Wash
Taking time in the fall to remove the grime from summer can usually be safely completed through November. Pressure washing prevents dirt and stains from permanently damaging or staining your home. Removing moss and algae prevents slippery surfaces in the wet and rainy transition period between seasons.
The fall power wash increases your home's curb appeal and ensures it looks its best through the winter months. Coming home to a clean, bright and welcoming space in the coldest months can boost your mood and shows pride of ownership. It also helps to lengthen the life expectancy of your outdoor surfaces.
Another benefit of a fall power wash is identifying problem areas that need immediate attention. Flaws in siding or concrete can quickly escalate in cold weather. Completing repairs before the cold sets in protects your investment.
The Window of Opportunity for Fall Pressure Washing
While pressure washing can be performed during the coldest weather in rare cases, the latest an entire cleaning job should be completed is November, as the best results are achieved before the weather falls below 50 degrees Fahrenheit. If it's any colder, special precautions have to be taken, which can be costly.
Biannual pressure washing is the best way to keep your home looking its best at all times. A sparkling home not only extends the lifespan of the exterior, but it can also increase the value of your home. Buyers and inspectors both know that a well-maintained exterior is a good indication the home is well cared for, and the inviting appearance makes your potential buyer feel at home.
For a beautiful exterior and value-added pressure wash, contact JB Power Clean today, before it's too late to enjoy the benefits of this valuable service.
Posted on behalf of JB Power Clean
Sherrills Ford, NC
Phone: (704) 658-5896