How Weather Affects Your Wooden Deck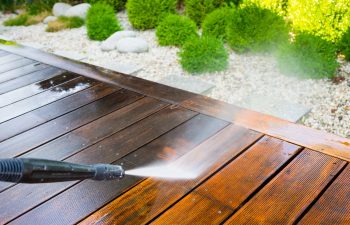 Sun, heat, rain, freezing temperatures, and the occasional snow we experience in North Carolina all affect the wooden elements of your home. Wood is a porous material, and as it absorbs water and contracts and expands with temperature changes, you need to do what's required to protect the wood on the exterior of your home.
A wooden deck is a wonderful extension of your home, but protecting it from mother nature is an essential step for making the lumber last for years. The elements of nature can all affect the quality of your deck, causing mold, mildew, softening of the wood, cracking, warping, discoloration, and the weakening of the entire deck system. All decks should be coated with a sealer or stain once or twice a year to protect the integrity of your wood. However, before resealing or staining your deck, it should be pressure washed beforehand.
Hire a Professional
Wood decks are especially vulnerable to damage caused by pressure washing because the pressure extended by a power washer can lead to the wood splintering. Because pressure washing requires a good bit of "know-how," you should hire a professional to do it for you.
When hiring a professional to power wash your deck, please don't just choose someone from a flyer left on your mailbox. Choose a company that has specific experience power washing decks. JB Power Clean specializes in professional pressure washing services that are safe and effective. We understand how to incorporate hot water, cold water, and high-pressure steam for all types of cleaning challenges.
Instead of replacing your outdoor surfaces altogether, we can help you transform your lifeless exterior into an attractive extension of your home.
Consider our reputable deck washing services as an excellent way to remove mildew, dirt, and other unsightly stains that have gathered over time. We offer free estimates!
Posted on behalf of JB Power Clean
Sherrills Ford, NC
Phone: (704) 658-5896