Have You Considered Your Dumpster Pad Needs Cleaning At Your Commercial Property?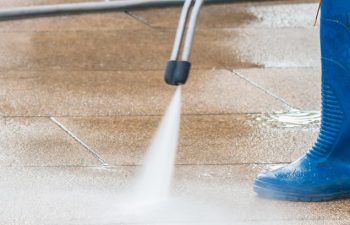 If you're a business owner or manager, you already know the value of having a clean property to make a great impression for everyone who visits your business. A clean exterior (including sidewalks and parking lots) signals to customers that you care about every aspect of your industry.
As you consider every area of your commercial property that needs cleaning, don't forget to include your dumpster pad on your list. Dirty dumpster pads can unwillingly provide an unsafe area for you and your employees. Dirty dumpster pads cause slips and falls and also contamination that attracts disease, rodents and insects.
Don't overlook your dumpster pad when considering what needs power washed at your business.
Here's why:
If you want to hire the best employees, you need to provide a safe and sanitized area for them to work in. This includes ALL areas of your business, including your dumpster pad.
Keeping you and your employees safe from injury should be a top priority. Spills and grease leaked from bags can cause a hazard for slipping. Avoid potential injury and even lawsuits by keeping everyone accident free in every area of your commercial property.
Your concrete dumpster pad is one of the most disgusting areas of your business. It can smell terribly and build up infectious materials and liquids. When you step into your dumpster pad and then walk back into your business, you take whatever you stepped into along with you.
Call JB Power Clean to pressure wash your dumpster pad area at your commercial property to keep it safe, sanitized and appealing to everyone using it.
Posted on behalf of JB Power Clean
Sherrills Ford, NC
Phone: (704) 658-5896