Get Your Back Deck Ready for Use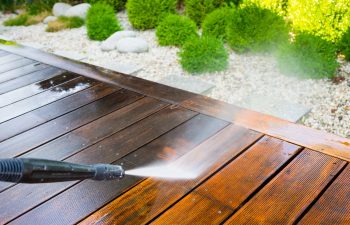 Spring is well underway, temperatures are heating up, and school is about to be out for summer. Now is the perfect time to start preparing for all the family time and entertaining you've been waiting for.
Back decks add a certain feeling of comfort and hospitality to any gathering. Eating out on the back deck gives new scenery to family meals, while inviting friends and neighbors to visit on your back deck offers a feeling of warmth and welcome. Having a lovely outdoor space that you want to use builds memories for years to come. Deck cleaning is a necessity that homeowners must undertake each year to keep their deck looking its best and holding up against all elements of weather.
Deck maintenance is crucial! While decks are made of sturdy, pressure-treated hardwood, it is still an organic substance that will warp and decay over time. The elements of weather that your deck must endure year-round can vary from one extreme to the other. The beating sun in summer, heavy rains of spring and fall, freezing temperatures in winter, and a coating of thick pollen will all take their toll on your deck. Without routine maintenance, your deck will become an unusable space that is unattractive and can lessen the value of your home.
Deck cleaning can significantly slow down the decaying process of your wood to keep your deck beautiful and stable for a long time. At JB Power Clean, we know wood! We have the proper knowledge, equipment, and professional-grade wood care products to clean your outdoor spaces appropriately. Power washing your deck requires proper equipment and know-how. Many homeowners have ruined their property by attempting to powerwash their deck, only to strip their wood and damage the integrity of their decking.
Contact JB Power Clean today to get your back deck ready for use this summer. We also offer professional wood cleaning for fences, docks, arbors, gazebos, and much more. We look forward to serving you!
Posted on behalf of JB Power Clean
Sherrills Ford, NC
Phone: (704) 658-5896