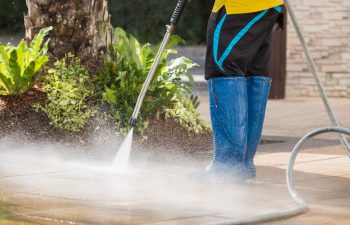 Many people will go to the nearest home project superstore, rent a pressure washer, bring it home to clean their driveways, sidewalks, or patios only to end up with a botched job. In trying to save money with a DIY project, many people end up paying more to have a professional come in and fix what they did wrong. Concrete pressure washing is more difficult than it looks. Without experience and know-how, many people leave unexpected lines, pockmarks, and cracks in their concrete that will lead to staining and weakened concrete that will need to be repaired.
At JB Power Clean, we proudly offer expert concrete pressure washing for your driveway, sidewalk, and patio areas. UV rays, dirt, rain, wind, and pollen all work together to discolor and degrade concrete surfaces around your home. Bird droppings, tree sap, mold, and mildew can also build up on your concrete surfaces, resulting in thick, sticky debris that creates an unattractive appearance. Concrete is a very porous material, so many contaminants are absorbed into the surfaces and create stains.
JB Power Clean proudly serves Sherrills Ford, Mooresville, and the surrounding areas with expert concrete power washing services. Along with specialized surface-cleaning equipment, our technicians incorporate the use of hot water, cold water, and/or steam to remove the toughest stains from residential driveways, walkways, and patio areas.
If pressure washing concrete is done without the precision of a professional, it is easy to damage concrete and weaken its integrity. JB Power Clean uses no caustic acids or damaging pressure levels, so you can trust that we will leave your property looking beautiful and in better shape than it was before.
If you are interested in concrete power washing for your property, contact JB Power Clean today. We are a Find Local "Top Customer-Rated" company, and we offer a satisfaction guarantee.
Posted on behalf of JB Power Clean
Sherrills Ford, NC
Phone: (704) 658-5896