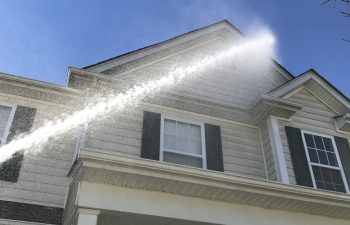 Heat plus humidity equals unpleasant results here in the south. Many residential owners are finding mildew and mold growing on the sides of their houses this year. With the excessive amount of rain we received in June, combined with the oppressive heat of July and August – many houses are starting to blend in a little too well with their natural environment!
Having mildew on the side of your house is certainly unattractive, but it can also be damaging to your property. When mildew is not removed from the outside of your home, it will begin to deteriorate your home's materials. Thus, having the mildew professionally removed is not only beneficial for your home's curb appeal, but it is essential for the value of your home.
JB Power Clean Pressure Washing provides low-pressure house washing services to get your home clean. Our low-pressure washing solutions contain mildewcides, surfactants, and rinsing aids that not only remove mildew and stains but also disinfect your home. When your home is clean on the outside, it helps to provide a cleaner, healthier space from the outside in.
Removing mildew from the exterior of your home with low-pressure cleaning eliminates the threat of property damage. We have seen many homes damaged by the uses of high-pressure power washing – having vinyl siding dented, paint stripped from the wood, shingles removed, lights damaged, and metal gutters dented. You can rest assured that choosing JB Power Clean for your home washing will not result in any damage.
If you are having a problem with mildew on the outside of your home, contact JB Power Clean Pressure Washing today before you get a letter from your HOA. Our low-pressure house cleaning services and our safe and effective cleaning solutions can restore the beauty of your home. Contact the experts at JB Power Clean today.
Posted on behalf of JB Power Clean
Sherrills Ford, NC
Phone: (704) 658-5896