Black Streaks on Roof = Algae Invasion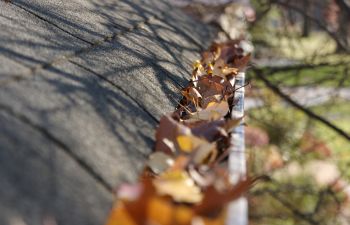 A drive through any residential neighborhood will reveal homes, driveways, landscapes, and roofs of varying standards. It is easy to see which homeowners take pride in their yards and which get by with the basic HOA requirements. While it may not be the first thing you look at, the roofs of houses can also tell you a lot. Those ugly black streaks that you see can detract from the appearance of any home, but did you know that those ugly black streaks are caused by gloeocapsa magma?
Black streaks on a roof may appear to be dirt or soot, but they are actually the accumulation of algae known as gloeocapsa magma, also known as blue-green algae. Learning that those black streaks are made of algae makes them much more unwanted than thinking they are just streakings of dirt.
Roof shingles get algae because the algae spores are airborne. The spores are carried by the wind, and they are easily and quickly spread from rooftop to rooftop. This is why some homeowners who had a completely streak-free roof in August may find multiple streaks running down their roofs come October.
Coastal, warm, and humid climates create the ideal environment for algae growth. In North Carolina, our moderately warm winters and hot summers provide the perfect environment for algae to grow on rooftops. While gloeocapsa magma is not dangerous, over time, it can cause damage to the roof shingles.
At JB Power Clean, our roof cleaning veterans can remove roof stains and streaks caused by algae growth. Our no-pressure roof cleaning procedure will not only remove the unsightly blacks streaks from your rooftop, but they will help ensure the longevity of your roof shingles' warranty.
If you are ready to start the New Year with a clean roof, contact JB Power Clean today. We specialize in professional washing that is safe and effective, and we proudly serve residential and commercial properties in the greater Charlotte area. Call us today!
Posted on behalf of JB Power Clean
Sherrills Ford, NC
Phone: (704) 658-5896