7 Reasons to Hire Us to Clean Your Dock on Lake Norman This Summer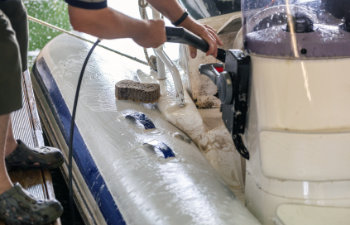 If you are lucky enough to have a home or cabin on Lake Norman, you probably also have a dock to access your boats and any watercraft. Lake life is wonderful, but there is extra maintenance you need to consider when you have lake access. Keeping a clean dock is not just for aesthetics – there are many reasons why should thoroughly clean your dock every summer. Here are seven reasons to schedule a dock cleaning with JB Power Clean to protect your Lake Norman dock.
1. Remove Stains
Do you have mildew or rust stains on your dock? While these may not affect the function, they are not desirable. Depending on your dock material, it can take specialized cleaners or equipment to remove these stains – let our professionals make your deck shine again.
2. Save Time
Cleaning a dock without the right equipment can be labor-intensive. What may take you all day or longer can be completed in a few hours when you hire a professional. JB Power Clean provides fast and thorough dock and pier cleaning for all of Lake Norman.
3. Preserve Your Dock
If you let your dock go, you may be facing replacement faster than necessary. You need to keep your dock clean and sealed to ensure it lasts as long as possible. Routine cleanings can extend the life of your dock, which can save you money in the long run.
4. Prevent Injuries and Accidents
A dirty dock can be very slippery, especially when mildew and algae adhere to the surface. A slip on your dock can cause injury to you and your family or guests, which no one wants. Plus, you may be liable if someone visiting your home is injured due to a fall caused by a slippery dock. We can clean away the slime and make sure your dock is safe for everyone.
5. Eco-Friendly Cleaning
It is vital that you use eco-friendly methods to clean your dock to protect the water life. The last thing you want to do is contribute to adding hazardous materials to the lake you love. JB Power Clean uses eco-friendly methods for all our cleaning services, especially when pressure washing docks and piers on Lake Norman.
6. Reduce Maintenance Costs
When you keep your dock clean, it can reduce the need for repairs. Not only does it extend the lifespan but you may save money on repairs by reducing deterioration from accumulated oil, mildew, rust, and other corrosive elements.
7. Tailored Cleaning
Every dock is different and needs a customized cleaning approach. At JB Power Clean, we have cleaned everything from single-boat docks to commercial piers. We know the right methods to produce excellent results in the fastest time possible.
If your dock on Lake Norman, NC is looking dingy or it is a hazard due to slippery spots, contact us at JB Power Clean. We are your source for professional pressure washing and dock cleaning – call us today for a dock cleaning estimate.
Posted on behalf of JB Power Clean
Sherrills Ford, NC
Phone: (704) 658-5896