7 Benefits of Pressure Washing Your Home's Windows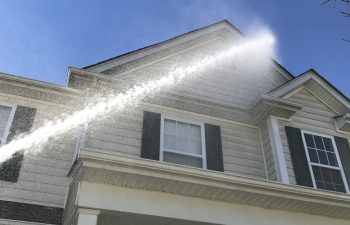 Pressure washing uses a stream of water to help remove dirt and grime from a surface, such as windows, your home's exterior, a deck, driveway and more. Why choose pressure washing to keep your home's windows clean? We have seven reasons for you.
Spotless Windows
Pressure washing is one of the best ways to ensure that your windows are left clean and clear with no spots and no streaks. Have you ever been sitting on the couch when something catches your eye out the window, and you realize it's just a streak or smear and you just cleaned the windows? Yeah, that won't happen.
Energy Efficiency
Your windows can help warm your home in the winter. However, they can't do this very effectively if they are dirty. Clean windows allow the bright sunshine to warm the window and transfer that heat to the interior of your home, so you can save on heating bills.
Let in More Light
With clean windows, you let in bright and cheerful sunlight to help lift your mood. If it's good for your indoor plants, it must be good for you too, right? Natural sunlight provides Vitamin D, and although you won't get as much through a window as you will from being outdoors, you can still make your home a warm and inviting place.
Prevent Damage
Dirt and grime on a glass surface will damage it over time. It can also damage the window frame and the seals. Furthermore, dirt buildup can make it difficult to spot any existing damage. If you can't see the damage, you can't catch it before it worsens. It's best to keep your home's windows clean.
Improve Curb Appeal
Clean windows make for a beautiful home, especially if you opt to have your whole home power washed once or twice a year. Make your home the envy of the neighborhood and increase its value by keeping it looking its best at all times.
Saves You Time
With a professional power washing service, you can ensure your home's windows are spotless, and you won't need to pull out the ladder and cleaning supplies to do it yourself. It saves you time, but it is also a much safer option for many homeowners.
Eco-Friendly Option
Power washing can use just a quarter of the water your garden hose will use if you choose to wash your home's windows yourself. This makes it a more environmentally friendly way to keep them clean.
To learn more about pressure washing your home, including your windows, call JB Power Clean at (704) 658-5896 today. Ask about a free estimate and our satisfaction guarantee!
Posted on behalf of JB Power Clean
Sherrills Ford, NC
Phone: (704) 658-5896